DC1000 Sweep Software - Updates, New Features and Improvements
Details of DC1000 software updates for all customers
This gives you new software features, and enhancements and fixes. All Firmware, Software and Manuals are free from our DOWNLOAD page.
04 AUG 2023
DC1000 Sweep Software V1.31
Added new MANUAL MODE.
This allows any LCR with R-X display to be used, even if not supported over USB COMMs.
The software still controls the DC1000 Sweep automatically, but enters the LCR R-X readings manually at each step.
This is designed to help customers who
a) are using older LCR meters that lack modern USB communications support.
b) who use LCRs that fall outside the scope of our current fully automated LCR options in the software.
Please also remember that the software (in both Auto and new Manual mode) still supports the use of multiple DC1000s.
This is helpful should you need to test up to 50 A DC (2 units), 75 A DC (3 units) etc.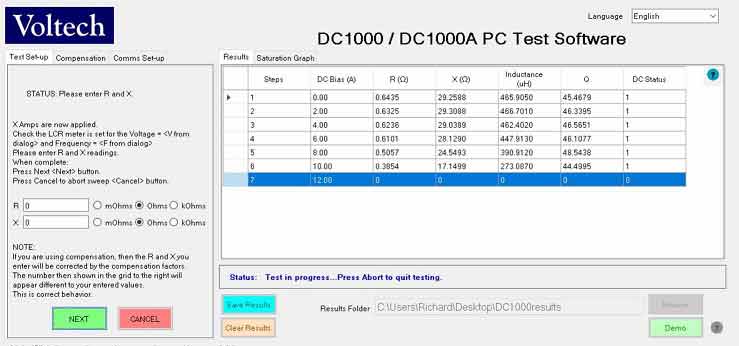 21 NOV 2022
DC1000 Sweep Software V1.29
Updated Chinese Language translations
Fixed bug fir EUR user where PC localization is set to "," for decimal indicator. This was causing errors in compensation factors.
Fixed bug when using units other than uH - the labels were being incorrectly written to the headers, although the results were correct numerically.
25 May 2021
DC1000 Sweep Software V1.27
NEW FEATURES
Added Support for HIOKI IM3536 Magnetics analyzer over USB
Facelift and GUI tidy up
Added Chinese Language support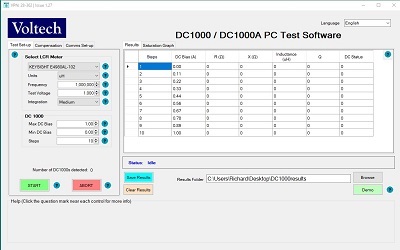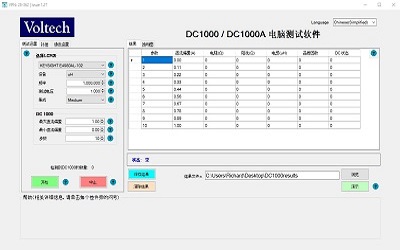 20 MAR 2020
DC1000 Sweep Software V1.17
NEW FEATURES
Added Support for Wayne Kerr 3260B Magnetics analyser
(via GPIB/IEEE using National Instruments GPIB-USB-HS adapter)
06 DEC 2019
DC1000 Sweep Software V1.16
NEW FEATURES
Add new LCR meter type TONGHUI over USB
Model - TH2830
Model - TH2831
Model - TH2832
(over direct USB connection)
05 AUG 2019
DC1000 Sweep Software V1.07
NEW FEATURES
Initial Release
Supports the following.
Keysight E4980A - 20 Hz-2 MHz
Keysight E4980AL- 102 - 20 Hz - 1 MHz
Keysight E4980AL- 052 - 20 Hz -500 kHz
Keysight E4980AL- 032 - 20 Hz - 300 kHz
(over direct USB connection)
HP/Agilent HP4284A
(via GPIB/IEEE using National Instruments GPIB-USB-HS adaptor)