USB Barcode Reader Functionality Added To AT5600
New free feature for all AT5600 Users - Simplify and minimize data entry time
Scan to load programs, set batch or operator or individual serial numbers
AT5600 and USB Bar-code Reader
We are pleased to announce that the AT5600 now supports USB bar-code readers.
This simplifies the process of recording AT test results to a specific serialized transformer, giving you maximum traceability of results.
The barcode reader can be used to enter any of the following input data, that is usually entered by the touch screen
- Program Name
- Operator Name
- Batch Number
- Serial number (initial serial and also after every test run)
The touch screen will still allow you to enter any of the above in the normal manual way if you wish.
The barcode reader simply connects to the USB-A port on the AT5600 (front or rear), and requires no extra power supply.
Please remember that the recording of Batch, Operator and Serial number are options in each test program (*.ATP) so must be enabled first per program before these can be recorded as part of the test results.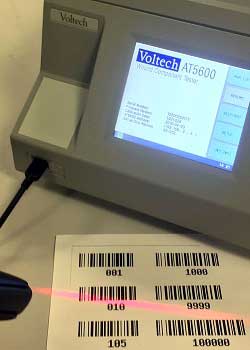 Which Barcode Readers Are Supported?
Voltech recommends the Honeywell Hyperion 1300G Barcode reader.
Whilst most other HID-compliant barcode readers should function, due to subtle differences between different manufacturers, we cannot always guarantee full compatibility.
On initial connection, the AT5600 will detect the 1300G and display a barcode on the display screen. This is then scanned by the user to configure the barcode reader to optimum settings. This is the same as programming the reader to USB HID POS settings as per the Honeywell user manual.
The Barcode reader can then be used for any text entry where the green barcode icon is displayed (see Right)
Please Note - to maintain constancy, the only valid Barcode characters are the the same as those on the on-screen keyboard . These are A-Z, 0-9, "Space" and "-"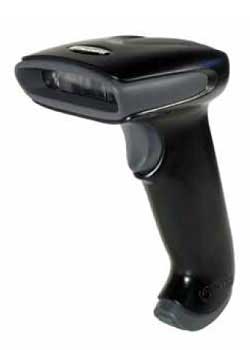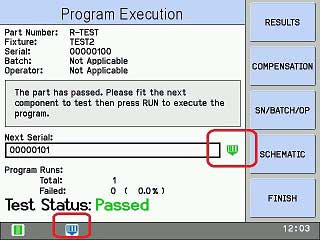 AT5600 Also Supports HID Keyboards
As our implementation on the communications uses the standard HID (Human Interface Device) protocol, the new firmware also enables the use of a HID compliant USB keyboard.
So, even if you do not wish to use a barcode reader, you can still use a HID USB keyboard
Most modern desktop PC keyboards will support this.
Once plugged in, as with a barcode reader, text entry can be via the USB keyboard or touch screen.
Please see AT5600 user manual sections 5.6 and 8.1.6.2,3,4,6 and 8.11.4
Requires AT5600 Firmware 1.002.000 or later.
Free upgrades available from our download page.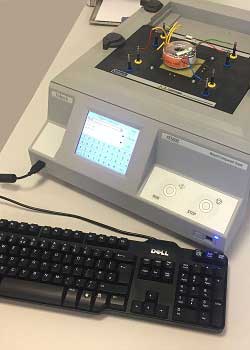 Contact Us
Questions on Barcode HID ? Comments ?
If you have any questions about the above or would like help upgrading your AT5600 to take advantage of these new features, please contact us for help.