AT5600 - Support Home Page
Checking your AT5600 operation
A Check AT5600 firmware version
If you are experiencing any issues with your AT5600 , then first check that you have the latest firmware installed.
The installed firmware version is displayed on the start up screen.
The current version is 1.004.053 (22 AUG 2023)

B Upgrading AT5600 Firmware
The firmware can be easily upgraded over USB using the AT editor software.
The buttons to the right provide links to 
a, the latest firmware file.
b, the Firmware release notes containing details of changes and improvements on every release.
c, a video showing the upgrade process.
d, the user manual instructions on performing the upgrade.
C AT5600 Self Test
If you are experiencing any issues with your AT5600 , then the built in self test should be run once the latest firmware is installed.
We recommend running the self test from the front panel on a daily basis to check unit health.
The powerful Self-Test performs a thorough check on all sources and measurement circuits to confirm correct operation of the majority of the hardware.
Should you encounter any failures, then the self test should be run from the AT Editor software to generate a diagnostic XML file.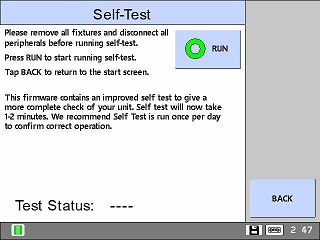 D Service
If the above checks have shown the AT5600 to be faulty then please see our service page to explore services available and to book a repair with us.
AT Editor and AT Server Quick start guides and tips
AT5600 Editor and Server Comms Quick Start Guide
See our quick Start guide for set up of Editor (USB or legacy RS232) and Server (Ethernet or legacy RS232)
AT5600 + Server Over Ethernet
The At5600 can be used with V3.40 or V4.xx of the AT Server.
As well as legacy RS232, the AT5600 can also connect to the AT Server using a more modern and faster Ethernet connection.
See the set up guide video.
Troubleshooting AT5600 Communications
AT Server (V3.40 and V4.xx) and AT Editor (V3.54/V4.xx) are compatible with Windows 10+11.
See our troubleshooting guide for issues related to the following
a, Windows 10+11 built in firewall which can prevent communications after first install.
b, using AT Editor with direct USB connection
c, using USB-RS232 adaptors for legacy RS232 SERVER and AUX ports
AT Server and Editor - Updates
A history of changes, improvement and bug fixes for the AT Server and At Editor
AT Editor and AT Server General FAQ
A selection of frequently asked questions for the  AT Editor and AT Server software
AT5600 + DC1000 Bias Unit
If you are an existing AT56 or AT36 customer looking to integrate the DC1000 with your AT unit, then please see this quick start guide.
AT56 Test Specification Calculator
As with all test equipment, any measurement you make must be understood in terms of the measurement accuracy.
This will depend on the size of the measurement, as well as the test voltage and frequency it is made with.
Our online AT specification calculator will help you understand the performance you can expect, and allow you make best signal judgments for best accuracy.
Please use the topic selection box.
This will give you direct access to web pages, articles, software and user manual extracts quickly and directly.
Submit your question to get help
If you cant find the answer to your question above, please contact us with your questions to get further support.